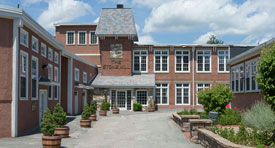 The Divorce Collaborative/Cunnally Law Group, LLC is located at the Medway Mills, 163 Main Street, Suite 6 in Medway, MA, with a satellite office in Burlington, MA. We work with clients in the Franklin, Milford, Medway, Burlington area and the towns of Norfolk County and Middlesex County.
Our Massachusetts divorce and family law lawyers provide individual representation in contested and uncontested family law and divorce matters including divorce mediation, child support, child custody, alimony, modification, contempt actions. We also serve as neutral divorce mediators to assist couples in resolving their family and divorce matters amicably.
We know that each client and couple face unique challenges. Our goal is to provide our clients all available options to ensure each person selects the best legal process to obtain the most favorable outcome possible for themselves and their family.
Whether your divorce is amicable or contentious, we make sure our clients are getting the individual attention they need throughout their case. We understand this is a time where clients are experiencing a range of emotions from anger to sadness, as well as fear of the future and the unknown. We are dedicated to our clients as they work through difficult family law legal matters.
Many divorce and family law cases are best resolved through alternative dispute resolution whereby parties are able to resolve issues pertaining to their minor children and finances without the need for court intervention. Other clients require zealous and aggressive representation in court. Our attorneys are experienced litigators in the Massachusetts Probate and Family Court and are prepared to litigate if necessary.
When facing a family law matter, often you need guidance on financial and parenting matters. When appropriate, we work collaboratively with other professionals such as CPAs, divorce financial advisors, mortgage brokers, real estate brokers, parenting coaches and mental health professionals. Having an experienced team on your side is paramount.
Call us at 508-346-3805 for a confidential consultation.
We also offer representation in 209A Abuse Prevention Order matters.
Divorce Attorney, Divorce Mediators, Collaborative Divorce Lawyers serving Bedford, Franklin, Walpole, Foxboro, Millis, Medway, Norfolk, Bellingham, Westford, Chelmsford, Wrentham, Plainville, Holliston, North Attleboro, Mansfield, Concord, Lexington, Carlisle, Acton, Billerica, Burlington, Wayland, Sherborn, Dover, Medfield, Shrewsbury, Westborough, Northborough, Southborough, Worcester, Massachusetts.